In a sponsorship deal with the Bose, the NFL has banned their players from wearing Beats by Dre headphones, or any other brand on camera.  Bose signed a contract with the NFL in March, which would replace the long running "Motorolla" logo seen on coach's headsets.  "Basically, players won't be allowed to wear Beats headphones before games or at any other time where cameras might be around at an NFL event. The game day ban runs until 90 minutes after a game has finished. The Beats ban also includes any training camp or offseason workout session where a player might be interviewed on-camera."
I suppose it never occurred to me that the NFL would only allow certain brands to be used by their coaches and players until the recent "Beats by Dre controversy."  Other brands that the NFL is sponsored by include companies such as,  FritoLay, McDonalds, Buswiser, Pepsi, Microsoft, Papa John's, and Visa.  Now everything seems so clear. All the commercials I see during football games are making so much more sense.  I just assumed Papa John's got a shout out or favorment by the NFL because Peyton Manning owns numerous franchises of the pizza empire, and Peyton Manning is debatably, the NFL's biggest star player at the moment.
Knowing that Microsoft is one of the NFL's sponsors makes a lot of sense that the league would sign a deal with Bose.  (Beats by Dre was recently purchased by Apple.)  But it appears that Beats by Dre is getting just as much expose as Bose, if not more recently.  Colin Kaepernick, of the 49ers, showed up for a press conference with the headphones around his neck and was fined $10,000 by the NFL.  As an official endorser of Beats by Dre, it is unknown whether Apple paid the fine for him.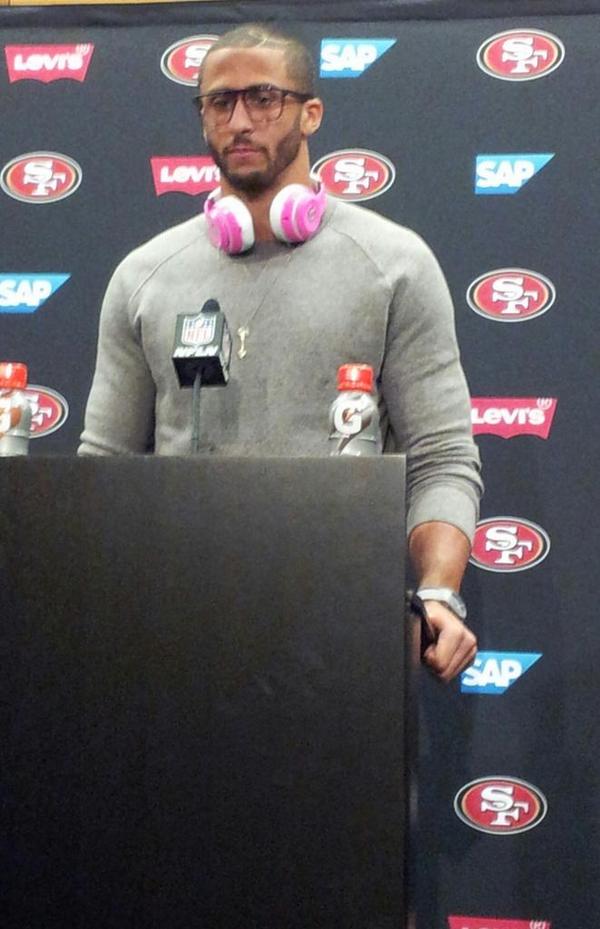 Seattle Seahawks player, Richard Sherman was also shown wearing Beats on the field during an EPSN pre game show.  Banned or not, it appears Beats by Dre is getting the upper hand over Bose.
Breech, J. (2014, October 5). NFL bans players from wearing 'Beats by Dre' headphones around cameras. Retrieved October 11, 2014, from http://www.cbssports.com/nfl/eye-on-football/24738617/nfl-bans-players-from-wearing-beats-headphones-around-cameras&c=sc
Sponsors. (2014, October 11). Retrieved October 11, 2014, from https://www.nflplayers.com/about-us/Group-Licensing/Sponsors/
Gutierrez, P. (2014, October 9). Colin Kaepernick fined $10K. Retrieved October 11, 2014, from http://espn.go.com/nfl/story/_/id/11671032/colin-kaepernick-san-francisco-49ers-fined-10k-beats-dre-headphones