This week marked the web's 25th anniversary — March 12, if you'd like to know. A lot has changed since its humble beginnings, both for better and for worse, but one thing is for sure: For most of us, it is an indispensable piece of technology, and it's here to stay.
In honor of its 25th birthday, it's only fair to track the web from its (very humble) beginnings to the present day, and, perhaps most importantly, take a look at its possible future. So, in the birthday spirit: The Evolution of the Web.
Very humble beginnings
The first website, "W3," went up in 1991 (Shandrow, 2014). In 1995, most Americans had never heard of the Internet, and only 14 percent of Americans had Internet access. This was two full years after Mosaic, the first popular web browser, was released (Wagstaff, 2014). I could throw a few more factoids at you, but I think one picture illustrates the point nicely. This is what the CNN homepage looked like in 1995: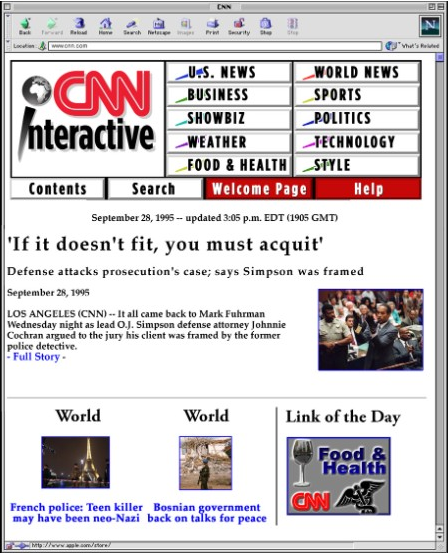 Present tense
Since then, the web has had some growing pains. With widespread popularity came brand-new social issues, including cyber bullying, online identity and credit card theft, and even addiction to the Internet. (To be fair, we can't place blame solely on the web for these things.) To add to that, there are the health issues that come with staring at a screen or sitting at a computer all day. Today, 87 percent of American adults use the Internet, but despite the drawbacks, most say that widespread web use has been a positive development (Wagstaff, 2014).
The way of the future
Tim Berners-Lee, the man who originally "filed the proposal for what was to become the World Wide Web," has a new idea for its future: "a 'Magna Carta' or 'bill of rights' to protect users" (Schofield, 2014). His argument is that the web is so much a part of our lives that we need an actual list of values for it. How would this work? Ideally, citizens in every country would draft an Internet Users Bill of Rights that would be proposed to the government. To start the dialogue, you can go to the campaign's website, WebWeWant.org, and help draft a bill of rights. Why should you do it? Because according to Berners-Lee, 25 years on, the web still needs work (Shankland, 2014).
References
Schofield, J. (March 12, 2014). The web's 25th birthday starts the campaign for the Web We Want. Retrieved from http://www.zdnet.com/the-webs-25th-birthday-starts-the-campaign-for-the-web-we-want-7000027271/ .
Shandrow, K. L. (March 12, 2014). 10 fascinating facts about the World Wide Web on its 25th birthday. Retrieved from http://www.entrepreneur.com/article/232149#.
Shankland, S. (March 11, 2014). Tim Berners-Lee: 25 years on, the Web still needs work. Retrieved from http://news.cnet.com/8301-1023_3-57620198-93/tim-berners-lee-25-years-on-the-web-still-needs-work-q-a/.
Wagstaff, K. (February 27, 2014). Happy Birthday: World Wide Web to turn 25. Retrieved from http://www.nbcnews.com/tech/internet/happy-birthday-world-wide-web-turn-25-n39571.